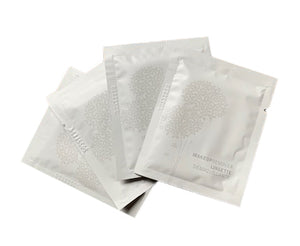 Our Makeup Remover Wipes instantly break down heavy-duty makeup with a luxuriant, light-weight formula. Each packet contains vitamin E, which provides additional nourishment for sensitive skin. Moreover, for optimal freshness and preservation, the wipes are securely sealed in virtually airtight packaging.
Make up wipes
We use these ourselves, these are saving my towels no doubt.
Saves on customers using wash cloths
These were exactly what I needed
Bought these makeup wipes in hopes of sparing my white towels! So far so good!!! Had searched high and low for individually packaged makeup remover wipes and couldn't find anything. Thankfully VRSupplies had exactly what I was looking for.
More than expected
Glad I tried the item myself. it was much better quality than I expected
Great website
I recently came across this website and purchased makeup remover wipes and pillowcases from them. The package arrived very quickly and I was very happy with the quality of the items I received. The makeup remover pads will help save my facecloths and look nice in the guest bathrooms. I was very pleased with the quality of my pillowcases as well and will be purchasing further bed linens as needed to match. So glad I found this website and highly recommend!
Super happy with the service and products
this was my first time using VR. l have an airbnb in the gulf islands, and the individual use toiletries and small serving coffee packs are perfect for my 2 bedroom suite. l am really happy with the makeup remover wipes. No more makeup on washcloths and towels. Really recommend them for everyone. l also bought some super white sheets and pillow protectors. great quality. l will definitely use VR for my airbnb hosting needs.