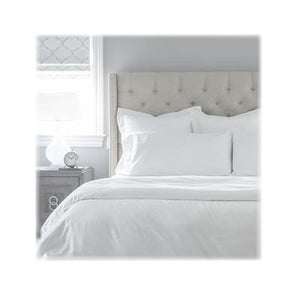 Crafted from T250 50/50 cotton polyester blend fabric, this hotel quality Duvet Cover White is designed for easy care and convenience with an envelop closure at the bottom and pull-through hand holes.
Machine washable.
Made in house, please allow up 10 extra days for delivery.
Duvet Cover
I was happy with the feel of the T250 and the quality of the duvet cover. I wasn't expecting the small openings on the top sides and not sure exactly what the purpose is and I feel the corners of the duvet could hang out of the openings and not be protected from dirt, spills, sticky hands etc. All the reasons I use a duvet cover. Also, unfortunately, there was a spot on the duvet cover that I didn't notice until after I ran it through one wash/dry cycle.
This was very helpful feedback, thank you for taking the time. As a result we just added more detail about the hand holes, including a diagram (see product images) explaining function. We tested a variety of covers with our cleaners and this design came out on top. Once the bed is made up, the duvet does not hang out. We welcome anyone to get in touch anytime with any concerns. Text owner anytime (Lynne 250- 864 -8589)
Follow Up:
'Hi Lynne,
Thanks for the reply and the hand hole explanation, it makes sense and glad to hear after testing the product, you don't find the duvet hangs out.
I did the extra washing of the cover today and it came out fine.
Again, thanks for following up.
regards,
Teresa'
Awesome bedding!
I always like all the products I have ordered from VR Supplies. Such great quality and service! The sheets are a generous size which works well. I like pulling the flat sheet over top of the duvet to protect the duvet. There is plenty of length for that. I like the envelope enclosure on the duvet cover so there is no zipper to break. It's easy to use once you get the hang of the envelope. I place the envelope closure at the top of the bed so that the duvet envelope doesn't open up and hang down at the bottom of the bed.
Dries quickly
My go to duvet cover for every bed in our b&b.....I have several of these. They look great and dry really fast
Great Duvet cover
Well made, good quality material! Love the open pockets for easier use!
Duvet cover
Replacing after a few years same quality