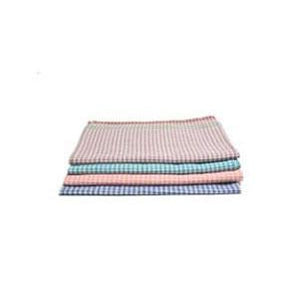 Econo Tea Towels (12 pack) offer a cost-effective solution for vacation rental needs, with each item measuring 22" x 32" and crafted from 100% cotton. Durable enough to stand up to multiple uses, yet priced low enough to replace when necessary, these towels are a great choice.
4 assorted colours
TIP: Guests destroy tea towels, hence the reason we offer this low priced option. If you are looking for higher quality tea towels , please go to our other option.
Econo tea towels
Great product. I use them exclusively. They are cheap. They do get wrecked by guests so nice to have a fresh supply.
Good for the price
Basic tea towels for rental units
Overall order
First of all I was very happy to find your website because I didn't know where to begin with my search for linens etc that I needed for my rental and not only did you have it all, I was able to educate myself and learn useful tips. I made a fairly large purchase which was delivered within a few days. We are quite pleased with everything we've used so far and see no reason that we wouldn't order from you in the future. There was a little hiccup in that one of our pieces was missing from our order but I phoned and with no issue at all my sheet was delivered within a few days. Great service! Thank you.
Very Flimsy Fabric
These tea towels are not very soft or absorbent. It's like a seersucker texture.
Wish I didn't buy them.
Thank you for the feedback J. I am searching for an alternative product. As well I will get in touch privately for a solution. The thought was with Tea Towels to go with a low priced product to allow VR owners the opportunity to replace often. Softness and absorbency improve after a first wash.